If you've been hearing a lot about SD-WAN lately, you're not alone. This innovative technology package has the potential to change the way organizations manage their networks in distributed locations.
Although it claims only 5% market share now, Gartner predicts that SD-WAN will be a $1.3 billion market by 2020. That's because SD-WAN addresses so many problems associated with managing technology at distributed locations: performance, availability and cost.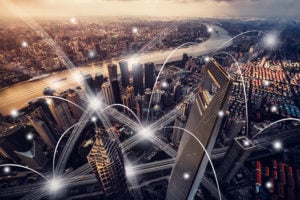 What are the benefits of SD-WAN?

SD-WAN stands for Software-Defined Wide Area Network and is the application of software-based technologies to the WAN so that network traffic is optimized across the enterprise and to branch locations. By supporting multiple connection types, SD-WAN can dynamically manage path selection enabling businesses to cost-effectively shape their network traffic and drive WAN performance. SD-WAN technology can eliminate expensive routing hardware costs by provisioning connectivity from the cloud. In addition, it delivers the benefits of high availability for critical cloud applications.
It's Easy to Deploy SD-WAN, But…

SD-WAN is simple to deploy in a branch location. For example, the VeloCloud SD-WAN Edge appliance has an automated process and can be provisioned (installed and authenticated) in minutes.
However, launching a new branch location includes the provisioning of many technologies that are not plug and play. Point of sale (POS) systems, phone systems, digital signage, managed video, kitchen display systems (KDS), low voltage cabling, all must be installed and integrated. All of this makes launching a new branch, store or restaurant challenging, and the challenge increases quickly with a multi-site deployment.
Project Management Is the Solution

A successful multi-location technology rollout requires a proven project management methodology to ensure that all systems and network elements are properly integrated and work correctly. A deployment partner with SD-WAN capabilities and multi-platform expertise is critical to a seamless and timely launch.
Our SD-WAN and project management experts can provide an assessment and gap analysis of your SD-WAN deployment project. Contact us today.